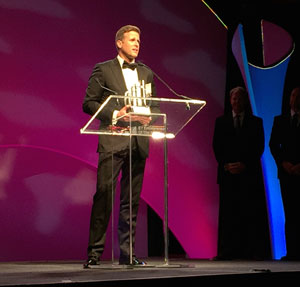 Ernst & Young announced David Royce, CEO of Provo, Utah-based Alterra, as EY Entrepreneur Of The Year 2015 in the Utah Region. The award recognizes outstanding entrepreneurs who demonstrate excellence and extraordinary success in such areas as innovation, financial performance, marketing and personal commitment to their businesses and communities. Royce was selected by an independent panel of judges, and the award was presented at a special gala event at The Grand America Hotel on June 6, 2015.
"We are thrilled to be recognized among such an incredible group of entrepreneurial organizations," Royce says. "Alterra's team members deserve much recognition and credit for this outstanding accomplishment, especially our president, Vess Pearson, who has been instrumental in helping grow Alterra across the country. Our focus has always been to build a better company, not just a bigger one. Our people have caught this vision and the fruits are evident in our growth and success."
Now in its 29th year, EY's program has honored the inspirational leadership of such entrepreneurs as Howard Schultz of Starbucks Coffee Company, Pierre Omidyar of eBay, Inc., and Mindy Grossman of HSN. Recent winners also include Reid Hoffman and Jeff Weiner of LinkedIn; Hamdi Ulukaya, founder of Chobani; and 2014 winner Dr. David Hung, President and CEO of Medivation.
About EY Entrepreneur Of The Year
EY Entrepreneur Of The Year makes a difference through the way it encourages entrepreneurial activity among those with potential and recognizes the contribution of people who inspire others with their vision, leadership and achievement. As the first and only truly global award of its kind, Entrepreneur Of The Year celebrates those who are building and leading successful, growing and dynamic businesses, recognizing them through regional, national and global awards programs in more than 145 cities in more than 60 countries.
About Alterra
Founded in 2012 and having expanded into more than 1,100 cities, Alterra has mastered its mission of responsibly protecting families and the environment. Alterra differentiates itself from competitors by utilizing the most progressive products while maintaining high environmental standards, and is a proud member of the EPA's Pesticide Environmental Stewardship Program. Alterra also has partnered with the United Nation's nonprofit Nothing But Nets, and dedicates a portion of company profits annually to send insecticide-treated bed nets to help save the lives of millions from malaria in underdeveloped countries.
Alterra is also an American Business Awards finalist for the 2015 categories "Fastest Growing Company of the Year" and "Company of the Year;" David Royce is a finalist for "Executive of the Year." The final selections for this national event will be announced June 22nd at a gala event in Chicago.