As a child, were you fascinated by, or fearful of pests?
As a child, I did an insect collection for the Boy Scouts to earn a merit badge. That spiked my
interest at an early age. When and why did you irst "fall" for this business? I worked my way through college selling and
performing termite jobs. Gradually, I began to see you could make a living doing this work. When I
graduated with a bachelor's degree in business, I offered to buy my parents out. Mother was
reluctant to sell, so I made plans to go on to law school. Dad told Mother to sell it, so she did. I paid full price for it and because it was family; it was a no-money-down deal … because I had no money. This is how I am selling it to my son-in-law, Jef Spencer, and Pam Blauvelt — a no-moneydown deal.
Which structural pest do you, as a professional, have the most respect for, and why?
Termites are one of the most challenging pests. You really must do a thorough job inspecting and planning the jobs. Now, with baits and non-repellent pesticides, a lot of the skill you once needed is gone. I was proud I only had one [barrier] breakthrough on the treatments I did.
How do you deine integrated pest management, or IPM?
There has been a huge shift as a result of IPM to "searching out the source" — the old "SOS" plan. We have eight supervisors who spend so much time seeking out the source that they can lose sight of what the customer wants most from us — to kill the pests. It is great that we spend hours and days inspecting for the source, but the owner has hired us to kill the insects. While they appreciate our knowledge and the information on the source of the insects, and that their assistance in sanitation and exclusion might be required in the process, we need to remember we are hired to kill the insects. We have lost accounts after spending hours upon hours looking for the source. You might even say this has been an ongoing topic of discussion at our supervisors' meetings. Finding the right balance of inspection and action is a moving target for pest professionals.
Without mentioning any suppliers or brands, which three pest management technologies do you think will take over during the next decade?
1. Operational technology is first. Each step of the new pest management business system here at Griin was
developed by Pam Blauvelt, the operational guru in our company. As companies grow, they require more overhead and management. They can't manage these resources without operational technology.
2. The second is leet management. Our routing system has had a material impact on our bottom line. We were able to improve proits with each step and, in turn, pay for the next step with the improved proits. Our calling the customer with their appointment reminders — and then hitting the two-hour arrival window 96 percent of the time — has greatly improved our customer satisfaction and retention numbers.
3. A third advance in technology would be a greatly enhanced predictive-nature model of pest infestations. We will be able to do treatments based on natural phenomena like temperature and humidity. Much like weather forecasters use a model to predict weather 10 days out, we can use a model to predict pest infestation levels, and proactively treat and exclude to prevent pests from compromising our customers' products or brands.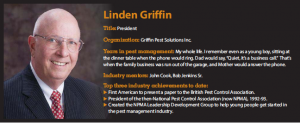 What are the Top 3 obstacles facing the pest management industry today?
1. The biggest obstacle hasn't changed. Our industry continues to think of themselves as "bug killers," and
not business people. We're more interested in the new pesticide than in our growth trends, operating ratios or target market segments. We sell ourselves — and our industry — short.
2. Another key obstacle is failing to plan for continued growth. [The late Cook's Pest Control founder] John Cook, from Decatur, Ala., had the best planning system for growth, and they are over $100 million, now. But that's the exception, not the rule. We routinely run into companies in the construction or service industry that say they're too busy to take on any more work. That mindset limits growth and a vision of the future. We live to have so much work we have to buy more equipment, hire more people, expand our territory and invest in ourselves.
3. The last obstacle is not being proitable enough. When companies run tight on their proit margin so they can
have the highest-paid salespeople or technicians, they feel they're being generous to their employees. However, without a proit or cash cushion for when times get tight, these are the same companies that lay of workers or go out of business. Then, their generously paid staf is without any employment at all. We intentionally run our company to continuously improve profits. That way, when gas prices shoot up or the economy takes a downturn, we have the margin to wait out the bad times. Our employees trade a "high pay one day, no pay next day" job, for a good paying, sustainable career with
a company that will be around for generations to come.
What are the industry's Top 3 opportunities?
1. We have seen that franchises are the big growth area for restaurants. Many times, regional businesses cannot bid on
their pest control work because it is bid out on a nationwide level. Regional companies are efectively shut out of that
business. Seeking out partnerships where companies can combine their geographic coverage to bid on franchises is a win-win for everyone.
2. Also, generational change in our customers is a big driver for growing a company. Many small businesses that started
after World War II are now changing hands. The next generation has big plans and big expectations. Educating the next generation of foodplant owners is an opportunity for us. Regulation is continuing to grow, and this affords us opportunities to grow.
3. Doing lawless work is our last great growth area. Customers have zero tolerance for pests, and we must meet this challenge.
Jerry Mix was editor/publisher of PMP until his retirement in 2004. A member of the PMP Hall of Fame (Class of 2005), Mix can be reached at jnmix@aol.com.