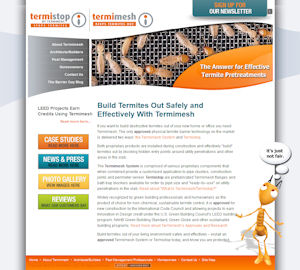 AUSTIN, TEXAS — Termimesh, LLC, the Austin-based supplier of the Termimesh System and Termistop, has launched a new, updated website — www.TermistopUSA.com — featuring valuable content for architects, builders, pest management professionals (PMPs)  and consumers.
New features of the site include The Barrier Guy blog, news and case studies, project photo gallery, and customer reviews.
"The new site will allow visitors to more easily identify and find the information that pertains to their specific market," says Glenn Bjornaas, general manager of Termimesh, LLC. "We partner with several diverse industries and each requires content specific to their needs and interests. The new site will greatly expand our content offerings going forward."
The updated site will offer downloadable news and case studies on Termimesh System and Termistop installations in new residential and commercial construction, how to become an authorized installer, building specifications and mechanical drawings, and how to activate the warranty.
The case studies will explain the challenges faced by the installer, architect or builder, how those challenges were overcome, and the benefits realized following a successful installation. Updated news stories, press releases and links to consumer media coverage of Termimesh System and Termistop-related activities will also be featured.
Another new feature of the site is The Barrier Guy blog. Visitors can follow the Barrier Guy as he interacts with architects, builders, pest management professionals and homeowners explaining the benefits of using the Termimesh technology, the only approved physical barrier against termites. Visitors will also be able to ask The Barrier Guy questions and sign up for a quarterly eNewsletter.
Visitors will also be able to view a photo gallery of Termimesh installation projects on a variety of commercial and residential structures across the United States.