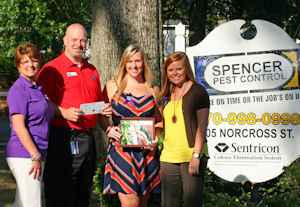 ROSWELL, GA. — In efforts to give back to the local community, Spencer Pest Services initiated a $500 cash giveaway to one deserving fan on Facebook to help cover cancer treatment expenses. Fans of Pest Control For A Cure (a program started by Spencer Pest Services dedicated to curing cancer), nominated deserving individuals who were battling cancer.
Top stories were selected and Facebook fans voted on a winner, Terri Jo, who was diagnosed with Ewing Sarcoma cancer earlier this year. Unfortunately, she lost her battle with  cancer in August, at the young age of 25. Her family decided to have her $500 grant donated to the Hope Lodge, where Terri Jo stayed for a while during her treatments.
The Hope Lodge is part of the American Cancer Society and offers cancer patients as well as their caregivers a temporary, free place to stay when receiving cancer treatment in a city away from home.
Sheri Spencer Bachman, owner of Spencer Pest Services, presented the $500 check to two friends of Terri Jo and to Danny Sheltz, a representative from the Hope Lodge.  They were all deeply grateful for being able to honor Terri Jo's memory in this way.
"We are so thankful for this donation,"  Sheltz said. "We support 52 families a day at Hope Lodge and this will really help. It's a great thing you guys are doing."
Cancer hits close to home for Sheri Spencer Bachman. Her father, the founder of Spencer Pest Services, battled Sarcoma cancer for over 5 years and lost the fight earlier this year. In efforts to give back, Sheri started Pest Control for A Cure in which she donates $50 to a cancer non-profit of choice for each new residential or commercial client who starts pest control, rodent, termite or mosquito service with her company.
This year, Spencer Pest Services has already raised more than $30,000 to help cure cancer. The company has been in operation for more than 50 years, and serves clients in Georgia and South Carolina.
Spencer Pest Services also embraces Social Media and has an active presence on Facebook, Twitter and Pinterest. The FB giveaway brought a surge in new fans and helped saves lives at the same time.