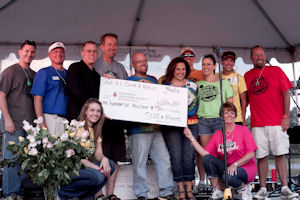 ROSWELL, GA. —
Spencer Pest Services
, with its
Pest Control for a Cure Program
, is just one of 10 local small businesses who joined forces to raise money to cure cancer. The group,
Stick it 2 Cancer
, was formed by In-Depth Wraps owners, Torri and John Westmoreland after John was diagnosed with Hodgkins Lymphoma. He kicked cancer to the curb, and the couple is passionate about helping others do the same.
Everything the team does ultimately benefits the
Leukemia & Lymphoma Society
. They put together events such as poker tournaments, car shows and more. The teams were able to get additional support from other local restaurants and businesses for each of their events. Together, they are increasing community awareness and support for cancer.

This is Stick it 2 Cancer's third year as a team. Last year their goal was to raise $60,000 and ended up raising more than $75,000. This year they created a lofty goal of funding two researchers for a year at a cost of $1,000 per week for a total of $104,000.  All monies raised by team Stick it 2 Cancer go directly to the Leukemia & Lymphoma Society (LLS).

During the Light the Night Walk for the Leukemia & Lymphoma Society on Sept. 22, the Stick it 2 Cancer team presented a check to the LLS for $106,000, bringing their three-year total to more than $200,000. The team is still receiving monies and will end up exceeding $110,000 this year.