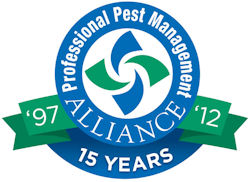 FAIRFAX, VA.—The National Pest Management Association's (NPMA's) Professional Pest Management Alliance (PPMA) has released the following background and statement regarding a new report on pesticides' effect on children's health and intelligence from the Pesticide Action Network of North America (PANNA):
 Background
On Oct. 10, 2012, the Pesticide Action Network of North America (PANNA), an organization whose self-proclaimed mission is to "replace the use of hazardous pesticides with ecologically sound and socially just alternatives," published a new report ("A Generation in Jeopardy: How Pesticides Are Undermining Our Children's Health and Intelligence") detailing a review of dozens of studies that claim to examine the impact of pesticides on children's health, and calling for effective pesticide regulations and policy changes to phase out the use of pesticides on agricultural products and in places where children live, learn and play.
PANNA claims the analysis revealed the following:
Evidence linking pesticide exposures with harm to the structure and functioning of the brain and nervous system.
Pesticide exposure contributes to a number of increasingly common health outcomes for children, including cancer, birth defects and early puberty.
Emerging science suggests that pesticides may be important contributors to the current epidemic of childhood asthma, obesity and diabetes.
Extremely low levels of pesticide exposure can cause significant health harms, particularly during pregnancy and early childhood.
The findings of this study were published by several outlets, largely online, on October 10, including The San Francisco Chronicle, The Fresno Bee, BusinessWeek, ScienceDaily and Bakersfield Californian  websites. Due to the findings and our experience with previous studies of this nature, we are closely monitoring this story to see whether it receives further attention by national and other local media outlets and generates inquiries from customers and/or employees.
Click here to view the full report
Statement
"NPMA is aware of the findings of this report and the studies citied within, as they have been published over a period of several years. We cannot speak to the credibility of the studies examined in this report. However, the science the Environmental Protection Agency (EPA) uses to evaluate products is sound.  Pest management products used within the industry are registered by the EPA after it has reviewed extensive heath and safety data and made a determination that the product meets the federal government's tough health standards. Consumers should feel confident that the application of these products is safe to both family and home when applied correctly by qualified and licensed pest professionals as directed on the product label.
The professional pest control industry's primary concern is for the health, safety and protection of its customers and the American public. Common household pests pose significant health risks including the transmission of bacteria and disease, and can exacerbate respiratory issues such as allergies and asthma. As such, pest control should not be taken lightly, but rather it should be handled in partnership with a licensed pest professional to properly identify, assess and treat the infestation. Consumers should discuss Integrated Pest Management solutions with their pest professional."
Speaking Points
The professional pest management industry can confidently say that professional products used in the treatment of residential pest infestations are rigorously reviewed and registered by the Environmental Protection Agency (EPA) to be used by certified applicators for pest management. The National Pest Management Association works closely with the EPA to ensure that all products used in pest management practices are consistently reviewed, re-registered and provided with accurate and comprehensive labeling for use.
If consumers are concerned by the issues raised by the PANNA report related to the products used by pest control companies in their homes, offices and children's schools and daycares, the National Pest Management Association encourages them to discuss these concerns with their pest professional as well as the proactive and preventative measures they can take to minimize risks, including risks posed by pests.  More importantly, by working with a pest professional, consumers can ensure that a pest problem is properly identified and treated effectively and efficiently.
Professional pest management plays a vital role in protecting public health and property. Household pests pose serious risks to our health by spreading bacteria and disease, contaminating food and causing respiratory problems such as asthma. Some household pests can also severely damage property. Wood destroying insects eat away at a home's structural stability and rodents gnaw away at drywall and electrical wires, posing a serious risk for fires.
Additional background regarding the study
None of the studies cited in the report are new, nor do they present any new findings that our industry hasn't seen before.
While there is a focus on products used by the professional pest management industry, the report significantly focuses on agricultural pesticides.
The report also points to studies done in other countries as well as effects of DDT, which has not been in use in the U.S. since 1972.
Several health problems cited in the report such as childhood obesity, autism and asthma have been studied by numerous entities concluding that a number of factors are responsible for a rise in these diseases over the past several decades. For example, the rise in children's asthma has been attributed to pollution and cockroach allergens in a recent Columbia University study.