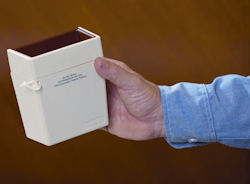 PHILADELPHIA—Verifi bed bug detector, from FMC Professional Solutions, is now available to pest management professionals (PMPs) in Canada.
Verifi is discreet, affordable and effective, according to the company. The new device allows PMPs to provide their customers with ongoing bed bug service, while generating a valuable reoccurring revenue stream. The detector is small, unobtrusive, requires no power source, and is easily installed on walls or behind furniture.
FMC's breakthrough bed bug detection technology features three attractants in a patent-pending combination to lure bed bugs for up to 90 days at a time. They are:
A carbon dioxide-generating cartridge that mimics a living, breathing host for about 24 hours.
A liquid kairomone lure that works to attract bed bugs seeking a meal.
A liquid pheromone lure that encourages bed bugs to aggregate (gather together)  in the device.
Both liquid lures last for up to 90 days at a time, and all three attractants can be replaced. It is important to note that Verifi is not a control product. It is designed to detect only. Canadian PMPs wishing to purchase the Verifi bed bug detector should contact their local FMC distributor.