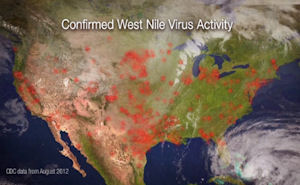 RESEARCH TRIANGLE PARK, NC—Environmental Science, a division of Bayer CropScience LP, has announced the availability of a new video designed to raise awareness of the public health threat posed by mosquitoes in the United States.
The four-minute video shows the face of mosquito-borne disease, featuring stories of individuals who have contracted West Nile Virus (WNV) and Eastern Equine Encephalitis (EEE). The video also encourages viewers to support their community's mosquito control program.
Mosquito abatement districts can download a copy of the video by visiting www.backedbybayer.com/vector-control/resource-library, and are encouraged to share it with their community by:
Posting the video on their district website;
Emailing a link to the video to constituents;
Showing the video during educational programs; and
Incorporating the video into any other communications vehicles, such as e-newsletters and social media channels.
Local abatement districts can also obtain a custom version of the video that includes the district's official logo, relevant contact information and website address. To learn how to acquire a custom copy, contact your local ADAPCO representative.
"We developed this video with the help of mosquito abatement district directors and their team members to serve as a tool to illustrate the health threat posed by mosquitoes and the importance of publicly funded mosquito control," says Gordon Morrison, business manager for Vector Control and Farm Hygiene for Bayer. "Raising public awareness is vital to the continued support of programs that protect the areas where we live, work and play from mosquitoes and the diseases they carry."