Bird-B-Gone program receives high marks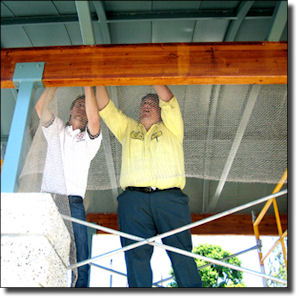 IRVINE, CA—Bird-B-Gone Inc.'s Bird-B-Gone University was recently audited for review and approval by the California Department of Pesticide Regulation (DPR). Bird-B-Gone received excellent remarks from the DPR as a four-hour Continuing Education (CE) credit in Bird Control training.
Bird-B-Gone University, a bird control training course offered by Bird-B-Gone, was recently audited by the DPR. The course covers many things commercial bird control installers need to know. The course qualifies as a continuing education course through the DPR.  Bird-B-Gone provides this free training at its facilities in Santa Ana, Calif., at least every other month.
Mike Dougherty, a bird control engineer at Bird-B-Gone, was well received as the presenter of this course.  "Mr. Dougherty was very knowledgeable in the subject matter and provided useful pesticide and pest management information," says Lisa Estridge, an environmental scientist with the DPR. "He presented bird management from an [integrated pest management, or IPM] perspective, and encouraged attendees to use a variety of bird control methods, such as exclusion, sanitation and mechanical tools. His presentation included a PowerPoint presentation, photographs, sample products and anecdotes that made the course more relatable to the attendees."
Bird-B-Gone University is designed to ensure pest control operators are equipped with the necessary knowledge and tools to properly install Bird-B-Gone bird control products. "All questions from the attendees were answered quickly and accurately. In addition, the course materials and comfortable facility, along with the announcement at the beginning of the course to silence cell phones, created an environment conducive to learning. Overall, the course was informative and well received by the attendees," says Estridge.
To become an Authorized Installer of Bird-B-Gone's bird control products, visit www.birdbgone.com/authorized-installers/become-an-authorized-installer.html.