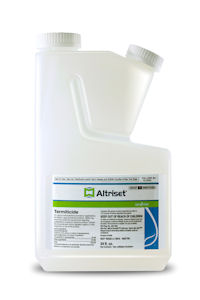 GREENSBORO, NC—On Feb. 11, Syngenta Professional Pest Management announced that Altriset termiticide is now registered for use in New York, excluding Nassau and Suffolk counties.
"Studies have shown Altriset can provide termite control for nine years and counting, even in the some of the most difficult states, such as Mississippi," says Gregg Wisniewski, marketing manager for Syngenta PPM in North America.
Through its exclusive mode of action and non-repellent active ingredient, Altriset stops termites from feeding within hours of application, preventing further structural damage, and spreads the product throughout the colony. Altriset continues working for an extended period of time to provide long-term termite protection.
In addition, Altriset can control termites with a low use rate and has an excellent environmental profile when used according to the label.
View the full product label and a list of states where it is registered on the Syngenta website, www.syngentapmp.com/altriset.