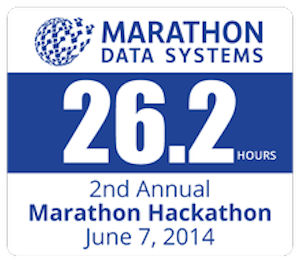 NEPTUNE, NJ—Marathon Data Systems, which provides a cloud-based business management platform for companies with a mobile workforce, announced its second annual "Marathon Hackathon" event on June 7, 2014, in Marathon Data Systems' new office in Neptune, N.J. The Hackathon, which will last 26.2 hours, will pit teams of software developers from the tri-state area against one another in a competition to create a fully functional app from scratch in just 26.2 hours. This year's app development will focus on connecting volunteers, individuals or organizations to relevant local charity events.
"Recently, while looking for available volunteer opportunities, it occurred to me that it would be much easier if I could use a single app to see a snapshot of all the local charities, their volunteer schedules and needs, instead of visiting each charitiy's website," says Nicole Trivigno, office manager, Marathon Data Systems. "With that in mind, we decided to focus our Hackathon event on addressing this need and benefitting both those looking to volunteer and their neighboring charities."
"Last year we decided to create an annual event that would bring together large groups of talented developers to solve issues that affect our local community or benefit local charities. We focused our inaugural Hackathon on bringing business back to the Jersey Shore in the aftermath of Hurricane Sandy," says Chris Sullens, CEO and president of Marathon Data Systems. "This year, we shift the focus to reducing barriers to local charitable giving. The tri-state area has a wealth of software development talent, and we're thrilled to provide an opportunity to leverage that expertise for charity."
The final apps will be evaluated by a panel of judges made up of local charity members, Marathon Data Systems executives and Bret Morgan, founder of the Jersey Shore Tech MeetUp and co-founder of Cowerks. In addition to contributing their expertise to worthwhile charitable causes, the winning team will receive a $1,000 prize, while the runners up will receive $600.
"Charitable giving is a core value of Marathon Data Systems, and one that we remained committed to even during rapid growth," Sullens says. "In the 12 months since our last Hackathon, we more than doubled the size of our office and added more than 30 new employees; we're thrilled to introduce our newest team members to this event and to the volunteer programmers and judges who devote their time and energy to helping make it a success. We'd especially like to thank Bret Morgan for hosting our inaugural Hackathon at the Cowerks facility in Asbury Park, and for serving as an invaluable resource and partner to us as we've worked to launch and grow the event and the impact it has for charity."
Visit www.marathondata.com/hackathon for more information or to register for the event.