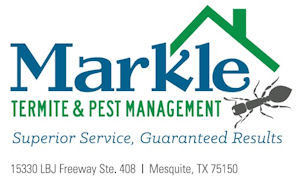 MESQUITE, TEXAS—Markle Termite & Pest Management recently became certified to provide the Sentricon System. To become a Certified Sentricon Specialist,  a qualifying company is required to complete comprehensive and ongoing training, use state-of-the-art data management and gathering tools, and pass annual quality reviews.
"Providing quality products and superb service are the two most important things to our company," says Dave Maurer, portfolio marketing leader for Dow AgroSciences, manufacturer of the Sentricon System. "Markle shares our commitment to those standards."
"Combining the science behind the Sentricon System and the 48 years of termite control experience we have, we now can provide our customers with the best termite protection available in the Dallas-Ft. Worth area," says Robert Hicks, owner of Markle Termite & Pest Management.
The Sentricon System is the only termite control product ever to receive the Presidential Green Chemistry Challenge Award from the U.S. Environmental Protection Agency. The award recognizes technical innovation that incorporates the principles of green chemistry into design, manufacture and use. In 2010, the Sentricon System introduced the Always Active technology, which begins the termite colony elimination process without delay and offers continuous property protection from termites.