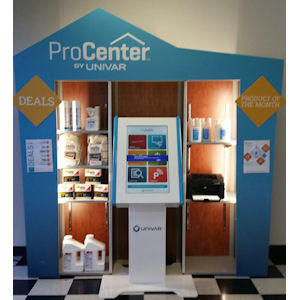 AUSTIN, TX—Univar Environmental Sciences (ES) announces the arrival of new touchscreen kiosks and information centers coming to its ProCenters.
Beginning in June, many ProCenters across the country will offer pest management professionals (PMPs)  in-store access to exclusive monthly promotions, product information, Premier Services, print-ready labels and SDSs, and PestWeb.com.
"We want to maximize the experience and time PMPs spend at our ProCenters, so investing in these kiosks and information centers was essential. Keeping up with the latest information is key to maintaining and growing their businesses," says Karl J. Kisner, VP-Marketing Environmental Sciences & Agriculture. "And we're able to educate and inform our customers by utilizing the latest in touchscreen technology."
The rollout of the new kiosks and information centers to 54 ProCenter locations is scheduled to be completed by the end of June.