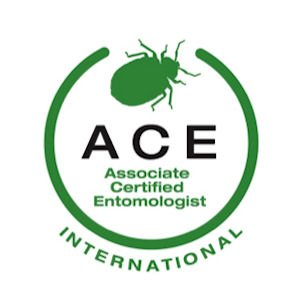 ANNAPOLIS, MD—At their semi-annual meeting on June 26, 2014, the Certification Corporation Governing Board of the Entomological Society of America (ESA) approved the launch of an International Associate Certified Entomologist (ACE-I) program. This global version of ESA's popular U.S.-based ACE certification and credentialing program will support pest management professionals (PMPs) from all nations.
"The need for professional pest management continues to grow throughout the world," notes C. David Gammel, ESA's executive director. "Pest management practices based on scientific research are critical for safety and effectiveness, especially in emerging markets. The international version of the ACE program will help establish a science-based, global, professional standard for pest management knowledge, providing a clear basis for technical training and skills transfer."
In October 2013, two groups of subject matter experts began to develop the ACE-I program by reviewing the current domestic ACE program and by analyzing which aspects would work internationally and which parts would need to be modified.
"We were delighted to find that, upon closer inspection, the existing ACE program was very close to an international model already," says Pat Copps, BCE, director of the Certification Board and a member of the ACE-International Development Committee. "We made some modifications to the content outline, such as removing U.S. laws that do not apply to PMPs practicing overseas. We also added more questions about pesticide safety, which will be strongly emphasized in the ACE-I exam, but overall, we did not need to modify the content all that much. In many nations, the U.S. standard is seen as a solid benchmark for professionalism."
ESA will be partnering with the National Pest Management Association (NPMA) on marketing the ACE-I. The official launch will be held in conjunction with NPMA's annual meeting, PestWorld, taking place in Orlando, Fla., Oct. 21-24, 2014.
"We're especially pleased to partner with ESA on the international ACE program because of the opportunity it creates to strengthen the professionalism of the global pest management industry, particularly in places where training and education are not always readily available," says NPMA CEO Bob Rosenberg.
The ACE program was endorsed by NPMA in September 2013.
"We're very gratified that NPMA has been so supportive of the ACE program," says Chris Stelzig, ESA's director of certification. "The fact that ACE is endorsed by NPMA is important to us, because they know the pest management market better than anyone. An NPMA stamp of approval means that we are building a program that provides real value to today's pest management professional."
One area of difference between the current domestic and the new international ACE program will be a change to the requirement for applicants to possess a current pesticide applicator's license. In the United States, to apply for ACE certification, a current pesticide applicator's license will continue to be required. However, since many nations do not require licensing, the international standard will be different. ACE-I applicants will still need a minimum number of years of experience, but they will not be required to be licensed. Instead, a second and shorter exam focused solely on pesticide safety will be administered to all international applicants. To become an ACE-I, applicants will need to achieve a passing score on both the Pesticide Safety and the core ACE exams.
Over the next few months, ESA will build the tools required to launch the ACE-I program, including finalizing the content outline for both international exams, writing test questions, drafting application forms, developing enhanced study materials, and designing web pages. No new changes are expected for the U.S. version of the ACE program as part of the international development.
Several international pest management associations have already expressed strong interest in the ACE-I program, including the Canadian Pest Management Association (CPMA) and the Structural Pest Management Association of Ontario.
"We expect early and strong growth in Canada," says Stelzig. "They have a highly skilled and professional PMP structure there. Canada has been ready for this program from Day One."
Steven Graff, president of CPMA, agrees. "I am very excited to see that the ACE-International Program has been finalized, as it will provide Canadian PMPs the opportunity to demonstrate to their customers and peers their levels of knowledge and expertise with respect to providing pest management services," he adds. "The ESA is a respected and globally recognized organization, and through its ACE-I program we will have an additional avenue to expand training and professionalism for all Canadian PMPs."
The development of the international program is an important part of restructuring the ACE program, which was developed in 2004 as a way to build professionalism in the structural pest management industry. The program has averaged growth of more than 35% a year since 2004. There are more than 760 ACEs as of June, 2014. Some of the more notable and recent improvements to the ACE program include:
Earlier this year, ESA debuted a new content outline (the subject matter upon which the exam is based) that is more in line with integrated pest management (IPM) principles and practices.
With the new content outline, a new set of exam questions were released.
An ACE representative position was added to ESA's Certification Board, the governing body that sets most policy for the programs.
A new ACE Professional Award was announced and will debut at PestWorld.
ESA has begun investigating the development of ACE certifications targeting the Turf/Ornamental and Public Health markets.
Two panels of experts reviewed the "years of experience" requirement for ACE application and lowered it from seven to five years, effective Oct. 1, 2014. The national standard for  credentialing is to set the application for certification to the minimum acceptable level of  competency while keeping the examination process as rigorous as is desired.
New logos for ACE, ACE-I and the BCE programs were recently introduced.
"ACE is on a tremendous growth path right now," says Copps. "There is a huge demand for science and IPM-based professional education and credentialing. The Entomological Society of America's reputation as the leader in the science of insect pest management coupled with the NPMA partnership means that ACE is truly the future of this industry in the U.S. and around the world."
For more information on ESA's certification program, be sure to check out the cover story of PMP's August issue.