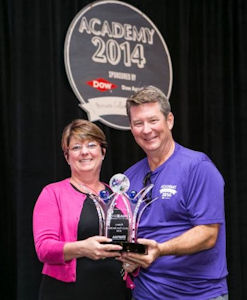 FAIRFAX, VA—The National Pest Management Association (NPMA) recently announced that Spencer Pest Services is the recipient of the inaugural NPMA Gives Award.
The NPMA Gives Award was created to provide association members with a way to recognize their contributions to their communities, whether through charitable donations, programs or time contributed.
"We received numerous entries this year, and the selection process was not an easy one," says NPMA CEO Bob Rosenberg. "However, this year's NPMA Gives award recipient embodies everything that this program is about — so much so that even the company's mission statement incorporates its commitment to its cause."
Spencer Pest Services was awarded this honor for the employees' efforts to raise money to fight cancer through a program called Pest Control for a Cure, created in honor of the company's founder, Bill Spencer.
Each year, company staff fundraise and participate in the Leukemia & Lymphoma Society's Light the Night and Woman of the Year, and the American Cancer Society's Relay for Life, Paws for a Cause and Pink in the Rink.  Additionally, the company hosts Dine to Donate events in which local restaurants in their community donate 20 percent of their proceeds for the evening to one of its fundraising teams.
"We get new customers because of what we do. Our employees feel good about what we do. We feel we are making a difference. Giving back and helping in the fight against cancer is just the right thing to do for our organization," says Spencer Pest Services President Sheri Spencer Bachman. "My dream is to take the Pest Control for a Cure program to the industry so we can not only make a difference in the communities we service, but in all the other communities nationwide."