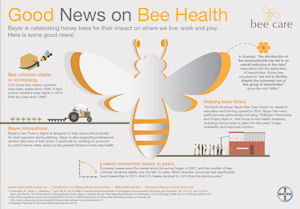 RESEARCH TRIANGLE PARK, N.C.—Aug. 16 is National Honey Bee Day, and the Bayer Bee Care Program is celebrating news that suggests bees are rebounding when compared to previous years. Honey bees have a tremendous impact in our lives, back yards and communities, including pollinating many of the fruits and vegetables we love to eat.  Without them, feeding our families and growing beautiful gardens would be a bigger challenge.
On this National Honey Bee Day, there is good news on bee health:
Even with this good news, there remains much work to do as bee experts agree that honey bee health is affected by many stressors.  From a lack of food and heavy workload while being trucked from coast to coast pollinating crops to diseases and deadly pests, honey bees are constantly facing obstacles. There's even the deadly Varroa mite, which has been called "the single most detrimental pest of honey bees" because it sucks their blood just like a giant tick and can ultimately destroy an entire colony. Honey bees are vital to our agriculture and urban landscapes, and it is important that they stay strong.
Bayer knows honey bees are important and is working to keep them healthy. In April, its North American Bee Care Center opened in Research Triangle Park, N.C. The company also launched Fluency Agent, a product that was used to help reduce potential pesticide dust exposure to honey bees during the planting season on more than 3 million acres in North America. Bayer shared the good news about bees during its 2nd Bee Care Tour, which traveled coast-to-coast ending in Washington during National Pollinator Week, and Bayer educated thousands about honey bee health in the middle of Grand Central Station in July.
For additional information and background on other sustainability initiatives, visit www.bayercropscience.us/our-commitment/bayer-initiatives.