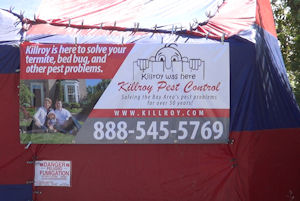 INDIANAPOLIS—Pest Control Operators of California (PCOC) is pleased to announce the winners of the 11th annual Fumigation Banner Bonanza Contest, sponsored by Dow AgroSciences, the manufacturer of Vikane gas fumigant. The contest recognizes California fumigators for promoting fumigation through signage at fumigation sites.
Killroy Pest Control of Campbell, Calif., won first place. The judging panel commented the winning banner was professional and easy to read. The judges liked how it showed a photo of satisfied customers.
Killroy Pest Control Vice President and Co-owner Richard Schmidt says the company was inspired to update its branding and banner because of this contest.
The company banner was designed by Steve Marsh of Be Competition Free, a local marketing company, who worked with Killroy owners Richard and Lynn Schmidt to help update the company's brand work.
"I like that the family on our banner shows that we're a family-friendly business," Schmidt says. "I think that the tent on a home sometimes scares people, so this banner looks approachable. It makes fumigation look a little friendlier."
In second place was Brezden Pest Control of San Luis Obispo, Calif., with a colorful banner boasting the company's name and phone number. Taking third was a banner from Craig & Sons Termite & Pest Control, Inc. of Ontario, Calif. The banner shows a termite holding an American flag; and the Vikane gas fumigant logo. Fourth place was awarded to Ecola Termite & Pest Control of Mission Hills Calif., which boasts, "The Ecola way is the better way!"
Participating fumigation companies submitted photos of their banners, which included their business name, logo and contact information. A panel of communications specialists judged the banners based upon readability from a distance, professionalism, visual impact and attractiveness. Pest control companies with the winning banners will be given prizes in the following amounts: first place, $1,250; second, $1,000; third, $500; and fourth, $250.
"Dow AgroSciences has sponsored the PCOC Banner Contest for over a decade," says Heather Kern, Dow AgroSciences product manager for Vikane gas fumigant. "The contest allows our fumigator partners to take pride in their banners, engage in some friendly competition and promote the value of structural fumigation with Vikane gas fumigant."