New Liphatech Technical Bulletin Details Rodent IPM in Schools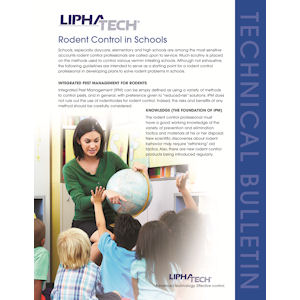 MILWAUKEE—Liphatech's latest Technical Bulletin provides an in-depth description of variables to consider when developing integrated pest management (IPM) programs in school settings.
Ted Bruesch, Liphatech's technical support manager, authored the piece. Drawing on his more than 40 years of experience in the pest control industry, Bruesch covers plan development, the complexity of potential infestation areas, prevention tactics, elimination tactics and information on pests that you may encounter in school environments.
"Schools are some of the most sensitive accounts PMPs are called upon to service. Our technical bulletin provides a guideline that clearly breaks the process down and describes the steps necessary to develop an effective plan," says Manny Martinez, Liphatech executive director, pest management division.
Visit www.liphatech.com/literature/pest_management/us_literature to view this and other Technical Bulletins from Liphatech. Nine technical bulletins are now available on subjects including Understanding Rodent Behavior and Burrow Baiting. PMPs may also contact their Liphatech district sales manager to receive a free copy.