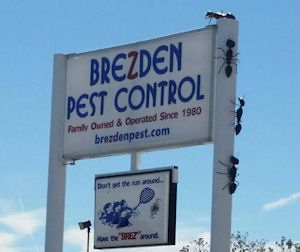 SAN LUIS OBISPO, CA—Brezden Pest Control celebrated its 34th year of business on Dec. 8. Owners John and Maria Brezden started the company out of their garage in Cayucos, Calif., in 1980. John served as technician for the family-owned business, while Maria handled the office responsibilities.
The home and commercial pest control company has achieved a record of success and grown substantially since then. In 1989, the business moved to San Luis Obispo to accommodate its continued growth and now serves all of San Luis Obispo, Paso Robles, Los Osos, Cayucos, Cambria, Five Cities, Atascadero and Santa Maria.
Brezden Pest Control now offers a wide variety of commercial and home pest control services to help home and business owners feel better about their environment. In addition to its pest control services, Brezden also offers dead animal removal and termite treatment. An ongoing employee education program enables the company to offer customers the latest in application technology, equipment and materials.
The company has added weed control, tree and shrub protection, rose care, personalized lawn and garden services and lawn fertilization, as well as Thermal Acoustic Pest Control, or T•A•P insulation from Pest Control Insulation Systems, to balance out its year-round offerings.
The family-owned business has received numerous positive testimonials from customers and an "A" verified rating on Angie's List.
"We are thankful to everyone who helped us achieve this milestone," says John Brezden. "Brezden Pest Control has been able to survive and grow thanks to our valued employees and vendors, and customers who are willing to tell their family and friends about us. It means a lot to my wife and me when someone tells us they called because one of our customers is so satisfied with our home pest control service."
In an effort to educate California residents, Brezden also maintains an online pest directory and writes a regular blog on local pest control issues. The company is a member of the National Pest Management Association (NPMA), several local Chambers of Commerce, and the SLO Association of REALTORS.