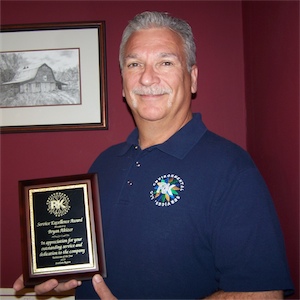 WESTWOOD, NJ—
Bryan Altizer, of Ripplemead, Va., has been selected as the 2014 RK Environmental Services (RKE) Technician of the Year. The award was presented Jan. 6 at the RKE 2015 Kick-off Meeting held at The Clinton Inn Hotel, Tenafly, N.J. The RKE Technician of the Year honoree receives a plaque and an all-expense paid getaway at the Ritz Carlton Hotel in Key Biscayne, Fla.
"It is a tremendous honor to be selected to receive this award; particularly given, I work among many talented and qualified individuals," Altizer says.
Altizer, former Sheriff of Giles County, Va., has been an RKE service specialist for three years. He has consistently achieved superior third-party food safety audit scores, and exceptional client feedback, the company notes.