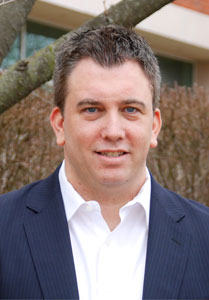 NEPTUNE, NJ—Marathon Data Systems has appointed Bill Fahrbach as vice president, financial planning and analysis. Fahrbach will lead the finance team in building and sustaining a strong analytic framework to support key business decisions, pairing strategy and operations with finance to support scalable growth for Marathon Data Systems.
"The culture and commitment to employee success is a recipe for building a great, enduring business and the driving force behind the brilliant ideas coming into focus here at Marathon," says Fahrbach. "Marathon's sustained growth serves as an example of how they've done things right for many years, and lending my expertise to help continue that trend is what I look forward to most."
Before joining Marathon, Fahrbach was CFO at Mobile Commons, a provider of software-as-a-service (SaaS) platforms for managing mobile and text messaging campaigns, where he positioned and led the company through its merger with Upland Software, a leader in cloud-based Enterprise Work Management applications. Prior to Mobile Commons, Fahrbach was senior director of corporate development for Oragenics, spearheading financial and strategic directives. He spent the early part of his career in investment banking at Merrill Lynch and Crusader Securities, working closely on $1B+ in transactions including mergers and acquisitions, capital raises, and IPOs.
"Bill's strategic capital management experience for cloud-based solutions looms large as Marathon continues its rapid advancement," says Chris Sullens, CEO and president of Marathon Data Systems. "His hire represents another key addition to an incredibly talented team that continues to deliver service and solutions that make a real difference in the businesses and lives of our clients."
Fahrbach holds a bachelor's of arts degree in economics and a bachelor's of science degree in mathematics from the University of Maryland, along with a master's of business administration degree in accounting, analytic finance, and entrepreneurship from the University of Chicago Booth School Of Business.