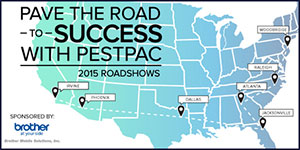 Marathon Data Systems, a Neptune, N.J.-based provider of Software-as-a Service (SaaS) solutions for field services, will host "Pave the Road to Success," a multi-city informative roadshow educating current and potential users on PestPac capabilities, including how implementation enables better control and profitability of businesses with a mobile workforce.
Each roadshow stop will feature an expansive agenda, offering attendees access to features and data available within Marathon's PestPac software. Through interactive sessions and Q&A opportunities, attendees will discover business management efficiencies created through sophisticated data and reports, and how Marathon's mobile pest control software solutions collect and utilize data to meet specific business needs. Attendees will also learn how PestPac creates customer communication, as well as discover the various features and functionality of PestPac through a product demonstration.
"The 'Pave the Road to Success' roadshow provides pest and lawn management professionals with in-depth knowledge of an industry-leading software solution that lays the groundwork for a future of enhanced mobile workforce productivity," says Chris Sullens, president and CEO of Marathon Data Systems.
The roadshow will begin in southern California, making stops in Atlanta, Dallas, Phoenix, Jacksonville, Florida, Raleigh, N.C., and Woodbridge, N.J. One lucky attendee at each show will win a Brother PocketJet 6 Plus mobile printer. Click here for more information and to claim a free pass for a roadshow near you.