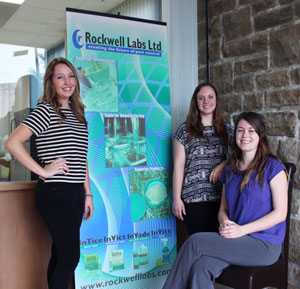 Rockwell Labs' foray into an internship program began in early 2014 when a teacher at North Kansas City High School contacted Founder and CEO Dr. Cisse Spragins, saying that he had a remarkable young woman who had an interest in science and business that he'd like her to meet. The young woman, Yareli Hernandez, had a challenging upbringing, having lived at times with her mother, who moved frequently, and at times with her father who worked in the oil fields. She had not spent more than a year at any one school, until her last two-and-a-half years at North Kansas City High School.
"I was really impressed by her confidence and composure, and she was obviously very bright. I spent a couple of hours showing her around and explaining what we did, and she asked a ton of questions," Spragins recalls. "I asked her if she would like a paid internship in our chemistry lab, and she jumped at the opportunity."
Hernandez worked part-time during the school year and full-time over the summer, before leaving to study Neuroscience at Coe College in Iowa.
"She did a great job at a wide variety of tasks in the lab, and for her final month I gave her her own product development project to work on, which was a real learning experience for her," Spragins says. "She performed very well."
In late 2014, Spragins learned about the Northland Center for Advanced Professional Studies (CAPS) program. The program works with area businesses to provide unpaid internships to high school students in several technical and business areas.
"I told them I would like to work with young women interested in science, engineering and/or entrepreneurship," Spragins said.
Sarah Piburn (pictured center) worked at Rockwell during the spring semester through the CAPS Advanced Manufacturing program. Over the semester, she completed and updated process flow documents for various production lines, as well as a 5S mapping project as part of the company's lean manufacturing initiative. Rockwell offered Piburn a full-time paid internship for the summer, and she is currently working in the chemistry lab, researching methods and completing chemical and physical properties testing on numerous products. She will be studying chemical engineering at Missouri University of Science and Technology at Rolla in the fall.
In late spring, Spragins met Katie Soden (pictured left), daughter of Rockwell Controller Nancy Soden. The younger Soden was finishing her second year at MU, and while she had always done very well in science and math, she wasn't entirely sure what she wanted to do.
"I offered her a paid internship in the chemistry lab, as I felt it would give her an understanding of the practical applications of science and help her develop more confidence and hopefully interest," Spragins says. Soden is spending the summer performing quantitative analysis on Rockwell's products, including method development for new products.
Laura Spatz (pictured right) just finished her second year studying accounting and human resources at KU. She really wanted an internship in her field vs. just a "summer job."
"Nancy always has a number of projects in the works, plus we are in the midst of a lot of internal process development which she is helping with, so Laura is getting good exposure to a number of different accounting and internal control projects," Spragins says. "It's wonderful having these bright, capable young women here. I've always felt that areas of study come alive when they can be applied in the practical world, and it's also excellent preparation for one's ultimate career.
"I'm glad we can provide that opportunity, and it helps us as well," she adds. "There is much talk about under-representation of women in (science, technology, engineering and mathematics, or) STEM areas, and particularly entrepreneurship in STEM areas. I'm a strong believer that role models can help build young women's confidence to pursue these areas. It helps to see what is possible. Social change ultimately comes down to individuals acting one-on-one."