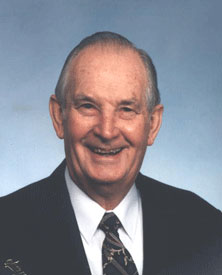 Roland Rhodes, who recently retired from the company he founded, Rhodes Chemical, died July 24, 2015 with his wife, Winona, at his side. His childhood home was in Kansas City where he lived with his two brothers and two sisters. As a young man, he worked as a paperboy and at the Kansas City Stockyard. He attended Central Jr. & Sr. High School Kansas City, Mo.
Rhodes went to junior college and then at the age of 17 joined the U.S. Navy during World War II. When discharged, he went to the University of Kansas on the GI Bill and received an bachelor's of arts degree in chemistry in 1949.
He married his high school sweetheart, Winona Carpenter, on April 4, 1947. They celebrated their 68th anniversary in April with a small gathering of family. They lived in Lawrence, Overland Park and Gardner, Kan., and raised four children: Christine, David, Alan and Deborah.
Rhodes was active in the Boy Scouts as an adult leader for 12 years, and he coached baseball and softball with his older children. He was a De Molay and Mason and served as a council member for the City of Overland Park. He enjoyed traveling, reading, learning and giving back to his community.
Rhodes worked as a chemist at Stokley-Van Camp, FMC Chemical Division and Cook Chemical. During his employment at Cook Chemical, he attended the National Pest Control (now Management) Association convention in 1956 and the Purdue Pest Control Conference in 1957. Rhodes became aware of the need for a distribution company in the Midwest. In February 1962, he and Winona started Rhodes Chemical Co. in their home. In 1966, the company was moved into a building in Kansas City with two employees. The business moved to its current location in Kansas City, Kan., in 1969.
Rhodes was a charter member (1969) of the United Producers, Formulators and Distributors Association (UPFDA). He served on the boards of several state pest control associations and attended the Purdue Conference for more than 35 years. He sponsored CEO Roundtables at the Kansas Small Business Development Center at Johnson County Community College. He served on the Kansas Department of Agriculture Board for more than 17 years.
Rhodes attended several NPMA Legislative Days and testified to the Senate committee on legislation affecting the industry. He was a member of the Entomological Society of America and Pi Chi Omega.
During the 1970s and 1980s, Rhodes and his wife started a Morgan Horse breeding farm. They raised, trained and showed Morgans in English, Western and Driving Classes at the American Royal in Kansas City for more than 10 years. Several of their horses were able to advance to National shows and placed as National Champions.
Services for Rhodes will take place Saturday, Aug. 1, at the Johnson County Funeral Chapel and Memorial Gardens, Overland Park, Kan. Visitation is 10 to 11 a.m., funeral service is at 11 a.m. and internment is at 12 p.m.
In lieu of flowers, memorials may be made to:
• Roland and Winona Rhodes Family Scholarship, Purdue University, College of Agriculture Department Office, 715 W. State St. West Lafayette, IN 47907
• Youth Civic Leadership Institute Fund, Robert J. Dole Institute of Politics, 2350 Peterfish Dr., Lawrence, KS 66045
For more information, visit JohnsonCountyChapel.com/obituaries/Roland-Rhodes.
As Roland was a friend to us all at the magazine, the Pest Management Professional staff expresses condolences to his family, friends and colleagues.