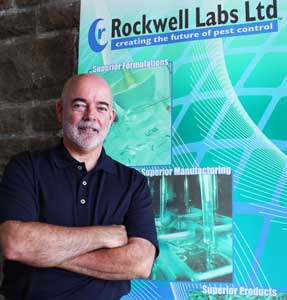 David Murphy has joined Rockwell Labs Ltd, North Kansas City, Mo., as vice president of marketing, product management and customer service.
Murphy brings an extensive background in the pest control industry, having worked in both the manufacturing and service sectors. He began his career in pest management in the marketing department at Orkin Pest Control in Atlanta, ultimately being promoted to the position of director of marketing during his decade there. He also served as the marketing director for Massey Services, Maitland, Fla., for two years.
Transitioning to the manufacturing sector, Murphy joined EcoSMART Technologies as one of the company's first employees. He worked as general manager for the Professional Division for several years until it was sold to focus the company on retail. He was then promoted to vice president of marketing, product management, operations and customer service in EcoSMART's retail division, where he stayed until the company was sold at the end of 2014.
"I'm delighted to have David on board with us," says Dr. Cisse Spragins, Rockwell's founder and CEO. "We have been focusing on building our internal infrastructure to drive our continued growth, and David will be a tremendous asset to our executive team. His deep knowledge of the industry, from both the manufacturing and service sides, will greatly enhance our efforts as we strive to continue to improve our customer experience. And his great attitude, work ethic and resourcefulness make him an excellent fit within our fast-paced, entrepreneurial culture."