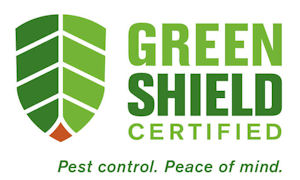 Customers in the greater Philadelphia market, including nearby towns in Delaware and New Jersey, now have a new greener option for pest control: Aardvark Green Pest Control Services, a service offered by Aardvark Pest Control Services.
To earn Green Shield Certification for its service, Aardvark went through a rigorous evaluation at its headquarters in Aston, Pa. The audit was conducted by the independent, non-profit IPM Institute of North America; it held Aardvark's business practices, pest management techniques in the field and pesticide product selection against Green Shield Certified's publicly available evaluation standards.
Green pest control is based on integrated pest management (IPM), a preventative, proactive approach to solving pest problems with effective long-term strategies. Based in Madison, Wis., IPM Institute of North America models its Green Shield Certified program after its award-winning IPM STAR program for schools. Green Shield Certified is available for pest management companies and services, as well as facilities and pest management programs.
Aardvark began in Pennsylvania in 1995 and serves residential and commercial customers, including school districts, healthcare facilities and food manufacturing facilities that are third-party audited.
"In all of these environments, rodent control cannot be done properly without IPM – it's effectively mandated," says Dave Stouber, co-founder of Aardvark along with Charles Kauffman. "You won't solve a rodent problem if you don't limit their access to food, water and harborage.
"As a company, we believe it's most important to eliminate conditions that lead to pest problems, using non-chemical methods first," Stouber continues. "Our customers deserve a higher standard of service that solves pest problems without unnecessary use of pesticides."
Aardvark also uses IPM extensively in its bed bug and webbing moth control programs, and is said to be the only company in the Philadelphia area that uses a dedicated on-site heat chamber to deal with hard-to-treat items. The on-site heat chamber allows Aardvark to increase holding times for dense items such as bags of clothes.