As our regularly occurring department "Giving Back" underscores time and again, when a pest management company does something good in the community, it receives much more in return — brand awareness, increased employee morale and strengthened local ties.
Here are six companies that went above and beyond the norm to help their communities. If you take a page from their books in 2016, see what happens in your business. Don't forget to drop us a line, too, so we can share your project with others for inspiration.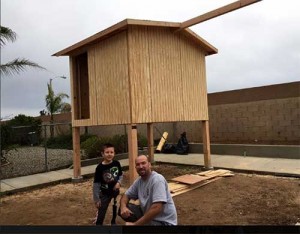 Black Knight Termite & Pest Control
The Temecula, Calif.-based company donated labor and funds to build a custom backyard for 8-year-old Kane, who was diagnosed with osteosarcoma (bone cancer) in his left femur in 2013. Black Knight first learned about Kane because he was a student in the first-grade class of the daughter of Owner Jim Pinneo. Kane's cancer is in remission, after an above-the-knee amputation. Contractor and former Black Knight termite repairman Justin Heilman designed and built a special San Francisco 49ers-themed fort for Kane, and the company continues to raise funds and awareness for swings and other equipment. Pictured are Kane and Justin before the fort was painted; inset is the fort in its red-and-gold glory.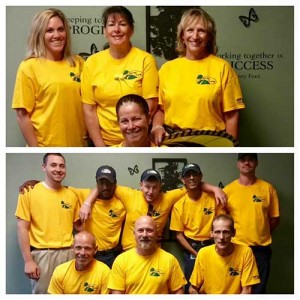 Epcon Lane Pest Control
Based in Akron, Ohio, Epcon Lane Pest Control spells out in its core values that it will support and engage in programs that help children with cancer. Its team follows through with that pledge regularly, chronicling the projects (and sometimes crazy fun stuff) on the company's Facebook page. In September, employees came prepared each Friday in special gold shirts to honor Childhood Cancer Awareness Month. Throughout September, Epcon Lane donated $25 from the first service of each new sign-up for its Home Protection+ Plan to Project Ed Bear, which provides comfort items, technology and other items for the oncology department at Akron Children's Hospital.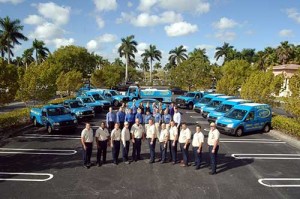 Hoffer Pest Solutions
Big Dog Ranch Rescue, the largest no-kill dog rescue in the Southeastern United States, has received several donations from Hoffer Pest Solutions, Coral Springs, Fla. These donations will help the Wellington, Fla.-based rescue group save more than $5,000 a year of much-needed funding, which can be used to care for the dogs. Hoffer has donated equipment as well as flea and tick services to prevent infestations and protect the many dogs that are rescued from all over the United States.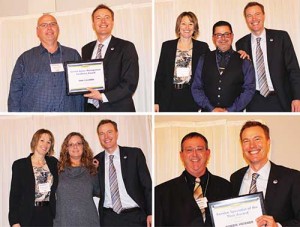 McCloud Services
Each year, the South Elgin, Ill.-based company's Employee Incentive Program rewards those who exceed production and sales goals for the fiscal year by giving them the opportunity to select a qualified non-profit organization to which the company will make a donation on their behalf. Recognized employees also receive a company-paid trip. This year's non-profit recipients include Habitat for Humanity, the American Red Cross and the Humane Society. Award winners are pictured with Chris McCloud, president and CEO, and Stephanie Dickson, vice president, business development. Clockwise from top left are Mike Colombo, district manager, Kansas City; Amir Shehata, service specialist, South Elgin; Robbie Heisner, service specialist, Nashville; and Jennifer Peterson, service specialist, Davenport, Iowa.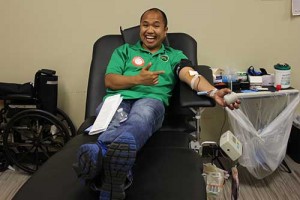 Mosquito Joe
This Virginia Beach, Va.-based mosquito control franchisor celebrated National Mosquito Control Awareness Week (June 21-27) in an unusual way. For the third year, through its Beat the Bloodsuckers campaign, Mosquito Joe locations across the country partnered with local blood banks to raise awareness about mosquito-borne illnesses and the importance of mosquito control. This year, 40 out of 78 franchisees participated, partnering with 20 different blood banks. They helped organize blood drives and donated 10 percent of new customer sales that week to local blood donation centers — $7,100 was raised. Franchise Business Coach Jake Vinluan has a little fun during his donation for the Beat the Bloodsuckers campaign.
Turner Pest Control
The Jacksonville, Fla.-based company is a participant in the Stadium Home by Dream Finders Homes at EverBank Field project. Turner donated its comprehensive termite pretreatment services for the new structure, which is inside Gate 4 in the Fan Entertainment Zone at the NFL's Jacksonville Jaguars stadium. The home will be on display for two years, and then will be moved off-site and donated to a local military veteran. Turner also sponsors the Jaguars' Gatling T-shirt gun during the first half of game play, and has a booth in the Fan Entertainment Zone with giveaways for attendees. The company also regularly distributes free home game tickets to its customers, clients and employees.