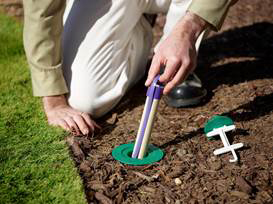 Featured in the Sentricon System with Always Active technology, Recruit HD termite bait has received U.S. patent protection.
"The patent for Recruit HD bait comes after more than 10 years of research and development by Dow AgroSciences," says Natalie Ciambrone, product manager for the Sentricon System. "For Certified Sentricon Specialists (CSSs), the patent helps ensure important market distinction with the homeowners they serve until 2032."
Commercial success for the Sentricon System with Always Active technology was a factor in the patent approval, she adds.
The Recruit HD formulation uses a highly dense cellulose bait matrix containing patented noviflumuron as its active ingredient. In field research, the bait formulation has remained effective for eight years and counting. It has also been found to become more palatable to termites as it ages in Sentricon stations.
As the only termite bait labeled for an annual service schedule, each Recruit HD bait contains 150 grams of bait material. Its patent comes during the 20th anniversary of the Sentricon System.