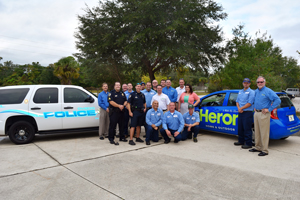 Orlando, Fla.-based Heron Home & Outdoor has partnered with the Oviedo Police Department to launch the first phase of Operation Bird's Eye through Heron's Oviedo, Fla., branch. The program has been created to assist law enforcement by Heron technicians identifying suspicious activity and then reporting it to the agency.
"Recently, I saw law enforcement on the news asking the community to be watchful – 'See something. Say something'," says Joseph Patti, board chairman for Heron Home & Outdoor. "Heron has more than 200 vehicles on the roads around the state six days a week. Our technicians, who have relationships with our customers, know their homes and the neighborhoods to know when there has been or is currently suspicious activity."
The Heron executive team first approached the Oviedo Police Department's Chief Jeffrey Chudnow and community outreach officer, Sergeant Wade Weaver, to implement Operation Bird's Eye within the Oviedo community.
"The Police Department's highest priority remains keeping the City of Oviedo a safe place by delivering efficient and effective law enforcement services," says Chudnow. "We could not do this without our partners within the community."
Heron's Oviedo branch was trained by the Oviedo Police Department to identify crime or suspicious activity. Every 16 seconds, a home burglary occurs across the United States; and mostly during the daytime when residents are at work. This is the time when Heron's technicians are servicing the home.
"We're talking about the protection and preservation of someone's property and well-being," says Patti. "We already take care of our customers' houses, and providing this additional service to further assist law enforcement is just one instance in which we can further help protect our communities. We have the resources to help. It's our responsibility to help."
Heron's Oviedo branch also services Winter Springs, Winter Park, Chuluota, Fern Park, Casselberry and east Orlando. Moving forward, the company will look to partner with additional law enforcement agencies across the state to provide this service. The technicians will receive refresher training throughout the year and any new technicians currently brought into the Oviedo branch will be trained on Operation Bird's Eye as part of the on-boarding process.