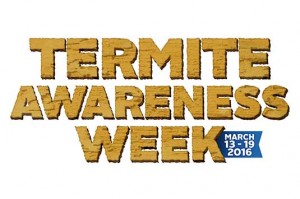 The Professional Pest Management Alliance (PPMA), which serves as the public outreach arm of the National Pest Management Association (NPMA), is working to promote public vigilance about termites during the fifth annual Termite Awareness Week, March 13-19, 2016.
Timed with the start of spring, and the start of home buying and selling season, this annual designation is recognized by Chase's Calendar of Events and is celebrated throughout the pest management industry. Using various media relations and social media tactics, PPMA will work to educate consumers about the dangers of termites and how to best protect their homes.
"With the arrival of spring, many homeowners will begin to think about home improvement and perhaps even selling or buying a home. It is the perfect time to educate customers on termite prevention, detection and treatment," says Cindy Mannes, executive director of PPMA. "Pest professionals have tremendous knowledge, firsthand experience and tools to educate on the damage termite colonies can cause and the importance of being proactive against this destructive pest. To spread the word, we are partnering with PPMA investors, NPMA members and the entire pest control industry to promote termite awareness."
PPMA is leading this push for public vigilance with the launch of various media relations and social media campaigns. Industry members are encouraged to join the cause by devoting their social media pages to termites during Termite Awareness Week. Companies should consider using the hashtag #TermiteWeek in all posts and interactions on Facebook and Twitter. PPMA has also developed an exclusive toolkit for Mainframe subscribers to utilize as a resource for their publicity efforts. The toolkit, which will be available for download on PPMAMainframe.org in February, contains a customizable press release, suggested social media content, high resolution photography, media training documents and other materials to help companies communicate to their customer base, while gaining positive publicity for their business in the communities they serve.