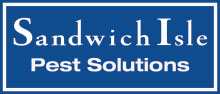 Pearl City, Hawaii-based Sandwich Isle Pest Solutions has acquired He-Man Pest Management of Kihei and Lahaina, Maui Hawaii.
"We are pleased to welcome the He-Man Pest Management team members and customers to Sandwich Isle Pest Solutions," says Sandwich Isle Founder and President Michael Botha, ACE. "We have been looking for companies who have a reputation for exceptional customer service, and He-Man Pest Management has done an outstanding job in its commitment to total customer satisfaction."
The acquisition of these locations expands Sandwich Isle's presence in the Maui market. Sandwich Isle currently has service centers in Kihei on the island of Maui and Pearl City on the island of Oahu. Founded in 1997, Sandwich Isle provides services to thousands of customers throughout Hawaii, including the remote islands Kauai, Molokai, the Big Island and Midway Atoll. It employs more than 85 team members, and is considered to be the largest privately owned pest management company in Hawaii.