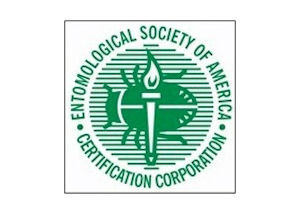 The Entomological Society of America (ESA) Certification Corp. offers two certification programs, the Associate Certified Entomologist (ACE) and the Board Certified Entomologist (BCE).
For late January-early February, the organization welcomed this new class of BCEs:
Anna I. Getchell, BCE, McCloud Services, South Elgin, Ill.
David Joseph Moore II, BCE, Dodson Pest Management, Lynchburg, Va.
Kimberly Michele Engler, BCE, ABC Home and Commercial Services, New Braunfels, Texas
In addition, new ACE individuals include:
Herlindo Villa, ACE, Cragoe Pest Services, Thousand Oaks, Calif.
Dr. Ross Halliday, BCE, Edmonds, Wash.
Larry C. Bragg, ACE, Clark Pest Control, Lodi, Calif.
Keith Simmons, Jr., ACE, J.C. Ehrlich, Allentown, Pa.
David Scott Knick, ACE, Terminix Service Inc, Columbia, S.C.
Gifford L. Bott, ACE, Orkin Pest Control, West Valley City, Utah
Neal Keith Blackwell, ACE, Blades of Green, Edgewater, Md.
Gregg A. Myett, ACE, Burgess Pest Management, West Bridgewater, Mass.
Wayne A Holliday, ACE, PestMaster Services, Lake City, Fla.