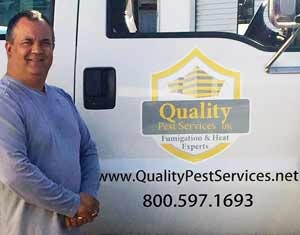 Lee Whitmore, a 17-year industry veteran, has launched Quality Pest Services. With three locations, the Anaheim, Calif.-based company is poised to provide fumigation and heat subcontractor services in the Los Angeles, Orange, Riverside, San Bernardino, San Diego, Santa Barbara and Ventura County markets.
Whitmore is a past president of the Pest Control Operators of California (PCOC), past board member of the National Pest Management Association (NPMA), and current chair of both the PCOC insurance program and the NPMA Public Policy Committee.
"I'm truly excited about this new venture," he says. "I look forward to the opportunity to provide top quality service to termite and pest control companies throughout southern California."
Quality Pest Services is a member of the PCOC, NPMA and the Southern California Fumigators Group.