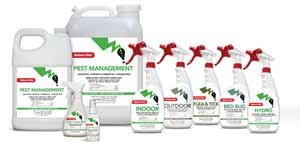 Pacific Shore Holdings Inc. has taken the first steps toward national pest control distribution of its Nature-Cide products by signing a Distribution Agreement with Residex LLC. With 25 distribution centers in 14 states, Residex has begun a trickle-down expansion of Nature-Cide products into its national distribution hubs.
"After months of testing, Residex management recognized the effectiveness of the line and negotiated an exclusive position to roll the brand out nationally," says Nature-Cide co-developer David Wise.
Residex and Nature-Cide have agreed to, and already have begun doing, joint marketing activities to promote the Nature-Cide brand to its customers through various trade shows and regional Residex events.
To learn more, visit www.nature-cide.com.