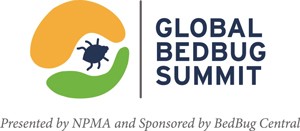 Featuring industry experts showcasing the latest bed bug research and control strategies, the National Pest Management Association (NPMA) will host the Global Bed Bug Summit Nov. 30 through Dec. 2, 2016. It will take place at the JW Marriott Indianapolis in Indiana.
Sponsored by BedBug Central, the Global Bed Bug Summit is designed to provide pest management professionals (PMPs) with the information they need from a legal, technical, business and customer-oriented perspective so that they can not only eliminate bed bug issues, but also create an environment of trust with their customers.
"NPMA is very excited to once again host this event with the support of BedBug Central," says NPMA CEO Dominique Stumpf, CAE, CMP. "Companies across the country have been working hard to develop bed bug control strategies. This event moves beyond the bed bug basics and focuses on the current climate of bed bug control and what to expect in the near and long term future of this pest."
The conference will feature EXPOCentral – a trade show floor offering attendees access to bed bug products, as well as a "Night with the Experts," a casual night of questions and exclusive interaction with the educational speakers.