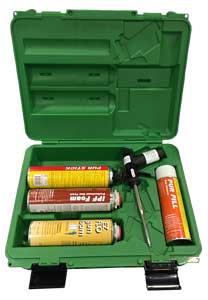 The Todol Foam Starter Kit contains everything professionals need for sealing joints, cracks, and openings in a crawlspace, as well as a polyethylene liner and Bora-Foam. Everything comes packaged in the durable molded plastic carrying case, which holds a mounted system and extra cans. Components include:
Pageris Foam Dispenser Gun;
Todol EZ FLO Gun Foam, a polyurethane foam that is used as a sealant, void filler and has adhesive qualities;
Todol IPF Professional Gun Foam, a sealant that contains natural scented spices to further deter insects, birds, rodents and small animals;
Todol Pur Fill Gun Cleaner, to flush out uncured foam; and
Todol Pur Stick Foam, a professional gun-dispensed foaming adhesive that can be used to create a seal between a polyethylene liner and the wall surface. It can even be used to seal Bora-Foam to the wall as well as the joints.