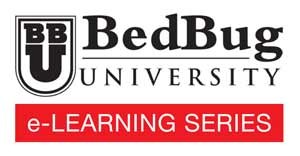 Copesan Services Inc. recently purchased BedBug University's e-learning modules on bed bugs to expand the educational offerings to its network. Formed in 1958, Copesan is an alliance of regional pest management providers united to serve national accounts with local expertise. Copesan University is Copesan's proprietary online learning management system designed to offer comprehensive, consistent education to Copesan's service and support teams across the Copesan network.
"Copesan University is constantly seeking technical online training related to the pest control industry," says Jessica Janiszewski, director of human resources for Copesan. "Our options are very limited, and there are few content developers developing online pest control training."
Rachel Davis, Copesan University administrator, was searching for additional training on bed bugs when the BedBug University's e-learning series was brought to her attention.
"We were interested in expanding our existing bed bug training material," Davis says. "One of our University advisory group members happened upon an announcement of BedBug Central's e-learning modules. It seemed a natural fit with our ongoing training needs."
BedBug University's e-learning series consists of three, 30-minute segments that cover bed bug biology and behavior, treatment and monitoring.