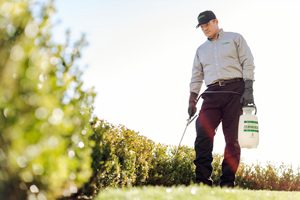 To protect golf professionals and fans from bites at this year's FedEx St. Jude Classic golf tournament (June 6-12), Terminix has treated TPC Southwind with its exclusive mosquito service. Technicians focused their efforts on high-traffic areas of the course (such as holes 16, 17 and 18), the clubhouse, practice facilities and the volunteer tent. The championship golf course is located in Terminix's headquarters city of Memphis, Tenn.
"Last year, we treated the course to make it more comfortable for golfers and fans during the tournament, but with heightened mosquito concerns this year, we doubled down," says Brian Baldwin, Terminix commercial service manager. "The FedEx St. Jude Classic is such a wonderful experience for golfers, fans and St. Jude families, and we don't want anything to get in the way of their fun. We're telling mosquitoes to 'hush, y'all.'"
Terminix professionals sprayed the TPC Southwind course with its exclusive, patented Attractive Targeted Sugar Bait, or ATSB, solution. The environmentally friendly solution contains sugar from fruit extracts and encapsulated garlic oil. The sugar in the solution acts as a bait and the encapsulated garlic oil acts as a gut toxin.
In addition to this service sponsorship, Terminix experts will be on-site throughout the tournament to assist attendees and offer golf-specific advice.