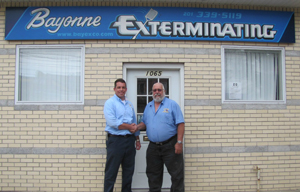 Bayonne Exterminating Co., named after its headquarters town in New Jersey, is a third-generation, family-owned and -operated company that has been serving Hudson County and Northern New Jersey since 1926. Along with being one of the oldest continually held pest control companies in the state, Bayonne Exterminating is also in the Top 25 in terms of size and business volume.
Current President Ralph Citarella Sr. has been in the pest management industry for more than 40 years. He has served most recently as president of the New Jersey Pest Management Association (NJPMA), along with his duties at Bayonne Exterminating.
Vice president of the company, Ralph Citarella Jr., has been in a management position at Bayonne Exterminating since 2004. In 2009, he became a fully accredited Board Certified Entomologist (BCE), one of only nine in the state of New Jersey.
"At Bayonne Exterminating Co., we have a family tradition: my father, myself and now my son," Citarella Sr. says. "I'm proud to say we've dedicated our careers, like doctors and pharmacists, to improving the lives of our fellow man."
The company also has a long history of giving back to the Bayonne and Hudson County communities, supporting charitable organizations and youth programs such as the Bayonne Hometown Fair, Women Rising, Bayonne Youth Soccer and Baseball, and the Bayonne Youth Flag Rugby team.