Have you ever been asked by a doctor to rate your pain? Pain is hard to describe. One entomologist, also known as "The King of Sting," put himself in pain's way when he decided to research and write about pain from stinging insects.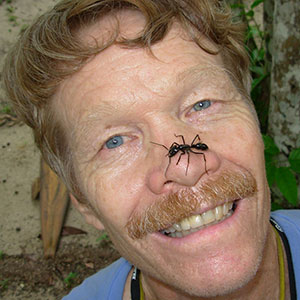 Justin Schmidt, a biologist at Southwestern Biological Institute and associated with the entomology department at the University of Arizona, had insects of the order Hymenoptera sting him so he create what's known as the Schmidt Sting Pain Index.
The index ranks pain from one to four — one being the least painful and four being the worst. To give you an idea of which insects rank where, the red imported fire ant (Scolenopsis invicta) ranks at a one, and a four ranking is a warrior wasp (Synoeca septentrionalis).
On May 25 he published a book on his research in a memoir called "The Sting of the Wild."
In the book, he describes and ranks stings from 78 different ants, bees and wasps. He depicts each sting creatively, using examples that actually can be imagined, since explaining severity of pain is so difficult.
In a quote from the book, Schmidt describes the sting of a No.-4-ranked bullet ant (Paraponera clavata) — the "holy grail of stinging insects:"
"Pure, intense, brilliant pain. Like walking over flaming charcoal with a 3-in. nail embedded in your heel."
Schmidt has been stung more than a thousand times throughout his research, but don't be so quick to call him crazy.
"I realized that most of us don't think in terms of numbers," he tells Atlas Obscura. "We think in terms of images and art and beauty and song. That's the way our species communicates and really understands things. So, I thought, 'wouldn't it be fun to try to apply this as kind of an artistic equivalent?'"
In trying to understand stings better, Schmidt has hypothesized that a sting is the only defense mechanism these insects have.
"Imagine something 50,000 times bigger than you, like a lion, attacking," he says to Public Radio International. "How are you going to possibly defend yourself? By scratching, kicking and and yelling? No, you can't. But if you have the equivalent of a bazooka or a rocket, then you can. And that's kind of what a sting is."
Tweet from TV host and comic Chris Hardwick, Nerdist.com's founder, CEO and creative head:
Beautiful infographic of Justin O. Schmidt's Pain Scale for Stinging Insects: https://t.co/IYJe002j9Z @atlasobscura pic.twitter.com/HSqwTYxWBD

— Kyle Hill (@Sci_Phile) July 14, 2016