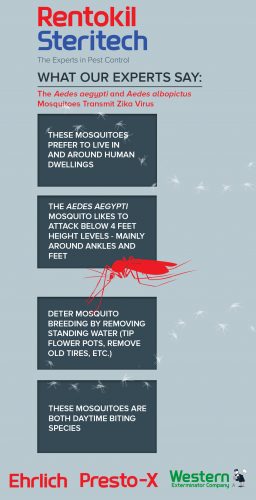 Rentokil Steritech, Ehrlich, Presto-X and Western Exterminator, launched a new campaign, "Join Our World of Mosquito and Tick Prevention," focused on helping consumers understand the increasing risks of mosquito and tick activity around their homes.
There are more than 3,000 species of mosquitoes, with more than 150 species in the U.S. alone, according to Rentokil. Mosquitoes are responsible for more human deaths annually than any other living creature, as they are carriers of many disease-causing organisms. Because of an El Nino winter that was warmer than usual, the tick and mosquito population is unusually high, leading to mounting concerns about mosquito and tick-borne diseases, including Zika virus, West Nile virus, Lyme disease and Rocky Mountain Spotted Fever, the company says.
"With the introduction of this campaign focused specifically on mosquitoes and ticks, we hope to greatly reduce the number of people that fall ill from the diseases they carry," says John Myers, CEO of Rentokil North America. "We want to engage our customers to join us in that movement. Likewise, we hope to raise awareness of the risks these pests can carry and boost the overall understanding of how to prevent their spread."
In addition to being a part of "Join Our World of Mosquito and Tick Prevention," Rentokil North America recommends several preventative measures that can help minimize the impact of these potentially deadly pests. The first is awareness and education: Consumers can log on to www.rentokil-steritech.com to arm themselves with knowledge about both mosquitoes and ticks. The second is to ensure their homes are as inhospitable as possible to these pests by removing all standing water and heavy vegetation.