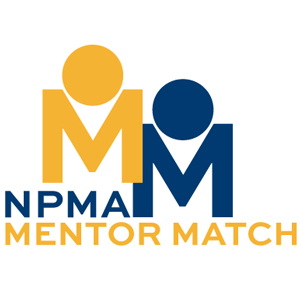 The National Pest Management Association (NPMA) has launched MentorMatch, an online mentoring program designed to provide its members with the ability to learn from one another about issues important to them.
"MentorMatch builds upon the mentoring program initiated by NPMA's Leadership Development Group 20 years ago, by using technology to create an easier process for our members," says NPMA CEO Dominique Stumpf. "Whether you are just starting out, or strong in one area but developing in others, MentorMatch can help you grow professionally Our members will be able to connect with the right people to help achieve their goals – and become more successful during the process."
With more than 7,000 pest management professionals (PMPs) in its network, MentorMatch was designed to offer NPMA members a way to easily connect with other PMPs who have expertise in an area in which they need assistance, whether those professionals are local or around the world. Topics mentees can select include:
Management
Career Development
Technology
Leadership
Growth Opportunities
Work/Life Balance
Sales and Marketing
Mentees and mentors in the program not only select the preferred method of communication – options including phone, email, Skype and others – they are able to pre-determine the times they are available for contact and block out periods when they anticipate they will be too busy to participate.
Detailed instructions on the steps for becoming involved with MentorMatch as either a mentee or a mentor are available on My.NPMAPestWorld.org.