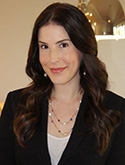 On Thursday, Sept. 8, Pest Management Professional magazine will present a free, 60-minute webinar featuring Marie Knox, technical manager, product development for Control Solutions Inc. Knox will speak on "Insecticide Resistance: Mechanisms and Management."
Starting at 1 p.m. Eastern / 10 a.m. Pacific, attendees will discover how (and why) insecticide resistance occurs — and learn practical steps they can take to manage it in this free webinar from PMP and sponsor Control Solutions Inc.
In this informative webinar, we will explore:
What insecticide resistance is.
How and why insecticide resistance occurs.
The four types of resistance.
Strategies for managing insecticide resistance.
We'll also share a number of free online resources and informational pieces with which pest management professionals can arm themselves.
Expert technical trainer Marie Knox has been sharing information and knowledge with the pest management industry for more than 15 years. She received her bachelor's degree in entomology and master's degree in nematology from the University of Florida. Roles with FMC, BASF and DuPont have provided Knox with a broad knowledge base of active ingredients, sales philosophy, product development and marketing.
Learn more and register today here.