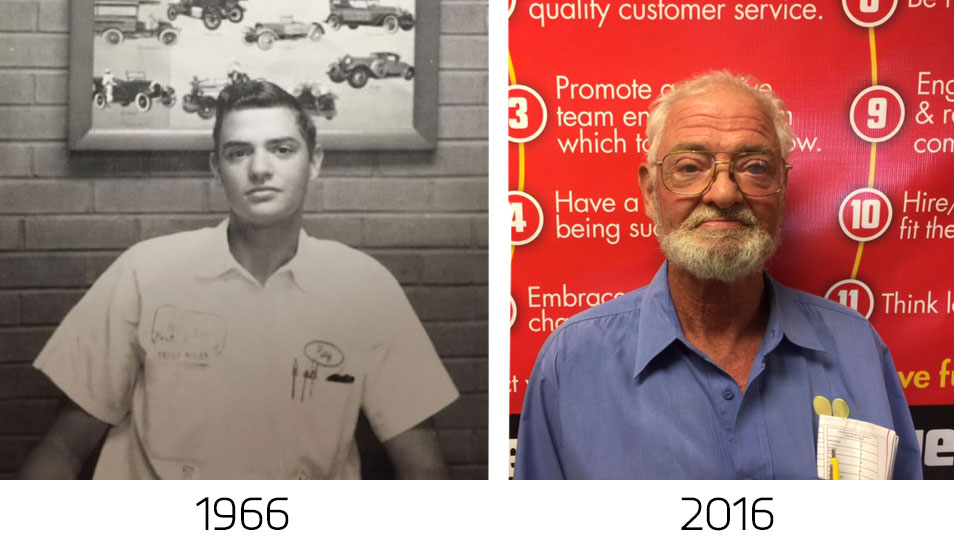 Truly Nolen Pest Control Technician Ray Rogers, who started with the company on September 15, 1966 at its Phoenix service office at the age of 17, is celebrating his 50th anniversary with the company.
Rogers, who has always worked out of the company's Phoenix service office, originally started as a termite technician, but after six months, he switched to general pest control and has kept the same route and territory ever since.
"There are two people on my route who have been customers of mine for the entire 50 years I've been here," said Rogers. "They are now in their 90s and I always enjoy seeing their familiar faces."
Rogers said he has seen Mr. Nolen at least 20 times over the last 50 years and has flown with him on his private plane before to help bring trucks from Tucson to Phoenix.
"One of the reasons I have stayed with the company for so long is because Truly's attitude about his employees has always been so warm," said Rogers. "I've worked for so many different managers throughout my career, and each one of them has helped make this branch feel like home for me."
Blessed with a wife of 36 years and four children, Rogers said one of the reasons why he has not retired as of yet is because he enjoys moving around and not staying in one spot all day.
"From bees and mice to bird work and roaches, I've helped my customers have peace of mind throughout my career, which is one of the things I'm most proud of in my career," said Rogers.
When asked what advice he would give to someone in terms of remaining with a company for a long time regardless of the field, Rogers said meeting challenges and taking them in stride has kept him going for 50 years.
"Wherever you work, whether pest control or any other industry, you have to be willing to do the work required," said Rogers. "Everything is a team effort no matter at what point you are in your career, so if you're not willing to make sacrifices that help your team, it will be hard to be successful down the road."
"Ray is someone our entire team learns from on a regular basis," said Leo Gomes, Truly Nolen district manager, Phoenix Valley. "We are so fortunate he has been part of our team for 50 years and we look forward to many more years together."
Photos: Truly Nolen