For more than 35 years, retired pest management professional (PMP) Phil Allegretti has been amassing an unusual collection: He has dozens of cans, bottles, dusters and other paraphernalia of pesticides past.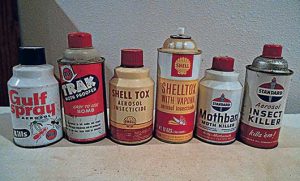 It started in 1980 in Bonners Ferry, Idaho, when Allegretti — then president of Panhandle Pest Control in nearby Naples — encountered a 1950s can of ichlorodiphenyltrichloroethane (DDT) in the attic of a theater account. The colorful can became the first of many in a collection that he ended up donating to the Chemical Heritage Foundation in 2014 for its museum's permanent collection. He has since started his collection anew — to both the consternation and amusement of his family.
If you've got photos from your collection you'd like to share, please send an email to pmpeditor@northcoastmedia.net.