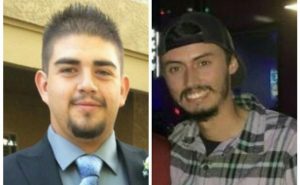 On Dec. 13, 2016, the lives of two Gilbert, Ariz.-based Magic Pest Control employees were changed forever.
Termite technicians Brandon Gauna and Kyle Ruiz were on their way to an account, driving on I-10, when an SUV drove onto an off-ramp and collided with them. Both the 63-year-old driver of the SUV and his 28-year-old son, the only two in the vehicle, were pronounced dead at the scene.
Gauna, 21, and Ruiz, 24, who is the son of Magic Pest Control's owner and local firefighter Nelson Ruiz, were taken to the hospital. They are reported as alert, but still listed in critical condition.
A GoFundMe account has been started by Magic Pest Control. As of Jan. 26, donations have reached more than $8,000.
The update reads, in part:
Both boys have numerous broken bones and severe fractures all throughout their bodies. Recovery will be a serious challenge. Most importantly, please pray for them, pray for our families. Pray this happens to no one else ever. We appreciate all the phone calls, love and support and we appreciate you all. We would like to make sure other families will not go through the same heartache as our Magic Family is going through for Brandon and Kyle, as they will have very lengthy recoveries. We thank everyone for their support, we would like to make a difference and ensure that people will know not to enter a freeway going the wrong direction. Together we will make a difference one step at a time to see that proper changes are made so innocent people are not victims of this in the future. We want to continue to help and support Brandon & Kyle and their families to help them through this difficult time.

In interviews with Phoenix TV station KTVK, local drivers note that it's a dangerous part of the highway. While no official ruling has been announced as to why the SUV was going the wrong way, one theory is that the driver may have taken a wrong exit, made a U-turn to backtrack, and mistakenly drove up the off-ramp. The Magic Pest Control truck, meanwhile, had no time to react and nowhere to swerve to avoid impact because of the curve, the rate of speed the high median. Initial reports say both vehicles were traveling around 45 mph, the posted limit
In another KTVK interview, Office Manager Cindy Castillo explained that one positive out of this tragedy is a focus on safety changes to prevent future wrong-way drivers.
"Whether it's signage or laws, we'll see what we can help put in place, so this doesn't keep happening to other families because it's devastating," she says.