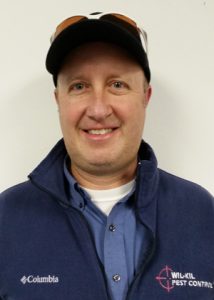 Sun Prairie, Wis.-based Wil-Kil Pest Control has announced that Jerry Springer, IPM Sales and Service Specialist from its Racine, Wis., office, is Copesan's Technician of the Year. He was recognized at Copesan's annual conference, which took place Feb. 14-16 in Orlando, Fla.
Springer was selected as Copesan's Technician of the Year for going above and beyond the call of duty, achieving challenging goals and for his excellent customer service skills. Springer is certified in three pest control categories in the state of Wisconsin and has completed almost 100 courses through Copesan University to further his pest management expertise. He also holds a Wisconsin Pest Control Association (WPCA) Master Technician Certification.
"We are thrilled Jerry was recognized as this year's Copesan Technician of the Year," says Randy Allen, regional manager at Wil-Kil Pest Control. "Jerry is recognized company-wide as a detail-oriented technician, and is trusted with some of the most sensitive accounts at Wil-Kil due to his superior skills and work ethic. Clients enjoy the personal attention he provides to ensure that the pest control issue is resolved."
For the second consecutive year, Wil-Kil Pest Control was also honored as Copesan's Partner of the Year (Large Class), among 13 like-size companies. The company was selected with the highest level of consistent quality in its division, including service delivery, net promoter score (NPS), audits and action plan follow-through and adherence to specific client protocols. Its score was also the second-highest overall score, as ranked against the 90+ Copesan Partner Network.
Copesan is an alliance of pest management companies united to provide pest solutions to commercial businesses, with locations throughout North America.