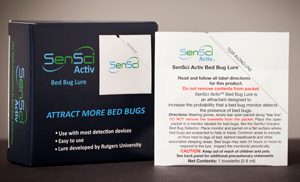 New evidence released by Lawrenceville, N.J.-based BedBug Central has found that its SenSci Activ bed bug lure can be used with other monitors to increase catch.
"Since launching SenSci Activ in October 2014, we have encountered several pest control companies who are using the Activ bed bug lure in a variety of ways that may not be evident to the vast majority," says Jeff White, director of innovation and technical content at BedBug Central.
Although the Activ lure was specifically designed to work seamlessly with the SenSci Volcano, studies have shown the lure to be effective in bed bug interception devices and monitors, and even glue boards.
"What we have been noticing is that pest management professionals are using the Activ lure, not only in the Volcano, but with other monitors, including glue boards," White says. "They are seeing an increase in catch rates by using the lure."
White also noted that while the SenSci Volcano interception device is considered maintenance-free, the SenSci team has recently announced a replacement recommendation.
"It is recommended that once a year the SenSci Volcano be replaced," White adds. "When snapped together, the seal between the bottom and top should be extremely tight so that first-instar bed bugs cannot escape. Over time, the snapping in and out of the two plastic pieces may wear down the plastic and allow bugs to escape, which is why we recommend that it be replaced every year for optimum performance."