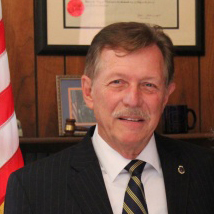 The year: 2008. The place: Nassau County, N.Y. — the Village of Hempstead in particular. As Nassau's assistant district attorney (ADA) for community affairs, René Fiechter wanted to address issues that most affected quality of life in Hempstead.
Conversations with community leaders revealed that bed bugs ranked high among issues that tenants often felt powerless to control. So Fiechter lost no time in convening a sixty-member Bed Bug Task Force to help landlords and tenants better understand and manage this scourge. Task force members included Dr. Jody Gangloff-Kaufmann, community IPM coordinator for the New York State Integrated Pest Management Program (NYS IPM) at Cornell University.
Now, for nine years of focused leadership on the Bed Bug Task Force and his commitment to Hempstead and Nassau County — as well as IPM — Fiechter has received an Excellence in IPM award.
"René wasted no time in learning everything he could about bed bugs," says Dr. Gangloff-Kaufmann. "He's also just a thoughtful, friendly person. Those are attributes you need if you're going to bring together such an array of tenants, landlords, pest professionals and community agencies, then make it work."
Much of public awareness about bed bugs is wrapped up in myths and misconceptions, such as bed bugs only affect those with low sanitation levels. Helping people get past such beliefs was among the most important issues the task force faced, says Bryan Matthews, director of environmental investigation with the Nassau County Department of Health.
"René is a shining example of how one person can serve and protect his community using IPM," says Jim Skinner, president of A&C Pest Management. "Under his leadership over the years, the task force held public events that drew hundreds of people and promoted IPM as key to coping with this growing crisis."
Jennifer Grant, director of NYS IPM, concurs. "René is one of those special people who saw a problem affecting the quality of life in his community and decided to tackle it. He sought knowledgeable people — knowledgeable about both pest management and the community — and brought them together with a common cause," says Grant. "You'd have to search long and hard to find a more inspirational advocate."
Fiechter received his award on March 24 at the annual meeting of the Community IPM Coordinating Council, held at Bethpage State Park on Long Island.