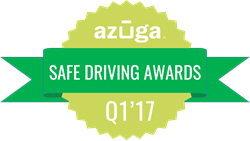 In preparation for June being National Safety Month, Azuga, a global provider of connected vehicle and fleet technologies, announced its first Safe Driving Award recipients of 2017. These quarterly awards are part of the Azuga Fleet Safe Driving Awards program, designed to motivate and incentivize both fleet managers and fleet drivers who make safe driving a key part of their operation and culture. Winners of the prestigious award receive cash rewards, certificates and social media recognition for being top performers among a pool of more than 50,000 drivers and 5,000 fleet managers across the globe.
"Although June is officially National Safety Month, we believe that drivers should practice safe driving habits 24/7, 365 days a year," says Ananth Rani, co-founder and CEO of Azuga. "Our quarterly awards program celebrates drivers and fleet managers that have been empowered by our social telematics solution, which combines driver visibility, gamification, and instant rewards for safe driving."
Winners include:
Drivers:
Ernest Sutterfield, M. Lipsitz & Co. Ltd
Spencer Hughes, AWP Inc.
General Antwon Dickens, Satellites Unlimited
Brent Carter, Corix Utilities
Tony Edwards, Aero Communications Inc.
James Doughtery, Laury Heating Cooling LLC
Dean Capps, Galaxy 1 Marketing
Kurt Kremer, Barton Mallow Company
Fleet Managers:
Eric Sietsema, Sietsema Farms
Jon Sims, Satellites Unlimited
Angel Lopez, Unique Freight Transport
Sam Smith, Ralph Smith Co.
Denny Walker, Ko Olina Transporation
Jon Erickson, Soils & Structures, Inc.
Anton Dagner, Ambassador Limousine
Patrick Garland, LT Environmental, Inc.
Winning drivers and fleets are announced on a quarterly basis, and at the end of the year, one driver and one fleet manager are chosen as top drivers of the year. The Safe Driving Awards winners are determined by analyzing all drivers' safety events (speeding, hard braking, rapid acceleration, idling) using a proprietary algorithm developed by Azuga's data science team. Each individual safety component factors in the magnitude, duration, frequency and spatio-temporal index to determine the conditions under which the events occurred. Driver scores are visible to fleet managers and workers alike, and are an important tool for recognizing good driving behaviors and identifying areas where coaching is needed.
No pest management firms were among the winners this quarter; PMP will be sure to report if any are chosen in the second-quarter contest.